Alex Penklis enjoys looking to the skies from firm foundations
20 September 2019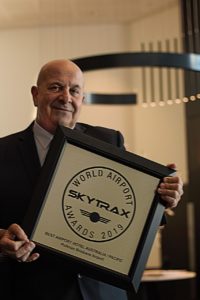 Brisbane Airport Hotels Group Chief Operating Officer Alex Penklis doesn't need to be sitting in the airport's control tower to get a bird's eye view of the incredible transformation occurring at Brisbane Airport.
He's sitting atop the IBIS Hotel in the Sky Lounge watching Brisbane's New Runway come to life, taking in the views from Mt Coot-tha out to Moreton Bay, as he explains the Group's vision to become a world-beating airport hotel operator.
"Deciding to build and operate three hotel brands within five minutes of one another out here at Brisbane Airport absolutely took faith and courage, but our success over the years hasn't happened by accident," Alex says.
"Whether it's the Novotel, IBIS or Pullman Brisbane Airport, we've had a strong team with the determination to make this ambitious vision a reality.
"Establishing ourselves here, away from the traditional hotel accommodation hub in the CBD, was the right time and the right place to be setting up a business…it gave us a competitive edge, with offerings that catered to a wide range of requirements and budgets.
"We could sense that travellers were starting the see the benefits and convenience of being so closely linked to an airport, particularly for business travellers, as well as families and groups on short-stays to see sporting events or visit festivals.
"During big sporting events and concerts at Suncorp Stadium or the Entertainment Centre at Boondall, we're usually at full capacity with overnight stays and our guests are sometimes lucky enough to run into the likes of Mal Meninga and the Kangaroos squad, who've stayed with us prior to their international tours."
Alex points out that his team took the necessary time to understand the history of the Group's future home on Airport, as well as to get ahead of the curve on international hotel trends.
"In the lead up to building our hotels, we travelled extensively throughout Asia to look at the latest trends in Hotel development, but we also knew the importance of understanding and incorporating aspects of Brisbane Airport's history into our thinking.
"Our IBIS Hotel includes the Cribb Island Beach Club, which is named after the former suburb which is now part of Brisbane Airport, and was the suburb in which the Bee Gees spent their youth… you can see an array of historical photos from that era on display here at the Club when you're enjoying a meal or unwinding with a drink after work with friends."
Alex says he's proud of the achievements the Group has made over the past 10 years, including Pullman Brisbane Airport being named the Best Airport Hotel Australia/Pacific and ranked 5th Best Airport Hotel in the World at the 2019 Skytrax World Airport Awards.
"The Group's success can be attributed to any number of things, but we know the importance of being in such a diverse and vibrant Brisbane Airport community, which is now almost 25,000-people strong.
"The connections we make here help us to do business better every day.
"Brisbane and South East Queensland is undergoing such an exciting transformation and we certainly feel part of the action being located at the airport."
Brisbane Airport Hotels Group is a member for BNE Enterprise which promotes and connects businesses in the airport community … to join or to learn more CLICK HERE.