Aviation Australia helps keep Asia in the air
20 November 2019
In less than 20 years Aviation Australia has become one of Asia's leading aviation training hubs, and according to the company's Senior Manager for Business Development Ms Rohini D'Souza, the best is yet to come, as the global aviation maintenance and repair segment sets course for a $240 billion industry.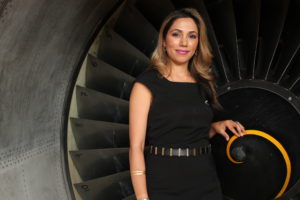 Established by the Queensland Government in 2001 and based at Brisbane Airport, Aviation Australia has undergone significant expansion in recent years to accommodate the increasing numbers of domestic and international students from more than 15 different countries, to undertake a range of vocational training courses  and aviation related professional development  in Brisbane.
"We have an array of courses specifically designed to cater to domestic and international organisations, the courses include Cabin Crew Safety, Aircraft Maintenance Engineering, Advanced Pilot courses for qualified pilots, as well as the Remotely Piloted Aircraft Systems (RPAS)," Rohini said.
"For the uninitiated, Remote Pilot Training is for people wanting to fly drones for commercial purposes.  With the increase of technology usage across many industries, we believe that the demand for training will grow exponentially in the next decade.
"The close ties we've managed to foster with large Australian and International carriers, has led to Aviation Australia developing a number of other aviation related training products to be launched over the next three years.
"We're already Australia's largest Aeroskills apprenticeship trainer, and with Boeing recently forecasting that the Middle East region will need 63,000 aviation technicians over the next two decades to service its burgeoning appetite for flight, Aviation Australia is well placed to help meet this incredible demand".
She believes Aviation Australia's strategic location based at Brisbane Airport has played a major role in the success of the company, not just in terms of proximity to airline operators, but also due to the convenience of being a part of the Brisbane Airport community.
"Obviously closeness to an airport is critical for a business like ours, but there are many more reasons we're seeing enrolments continue to grow.
"Being here at Brisbane Airport means our students, who stay here in Brisbane for up to 18 months, can feel like part of an aviation community.
"Families of international students travel to Brisbane for graduation ceremonies and often stay for up to a week, so they get to enjoy the hospitality offered by Brisbane Airport's world-class hotels, restaurants, Skygate retail and if so inclined, a bucket of balls on the driving range or putt putt at Golf Central.
"We're also involved with the Airport precinct's business organisation BNE Enterprise, which allows us to engage with other businesses in the catchment.
For more information on Aviation Australia, visit www.aviationaustralia.aero
Aviation Australia is a member for BNE Enterprise which promotes and connects businesses in the airport community. To join or to learn more CLICK HERE.