AUSTRALIA TRADECOAST AIR FREIGHT WEBINAR – Leverage new global export opportunities
3 September 2020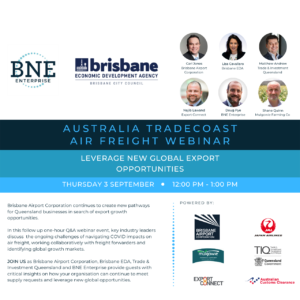 Brisbane EDA Industry Development Manager Lisa Cavallaro and BNE Enterprise's Doug Pye lead an expert panel of guests to discuss:
Updates for industry on new flights and schedules for Q2

Introduction to Trade & Investment Queensland's new Freight Coordinator role

Global growth market insights and opportunities

Japan Airlines new Tokyo flight schedule from Brisbane Airport

Industry case study – Mulgowie Farming Company

Industry readiness requirements following Austrade's International Freight Assistance Mechanism (IFAM) conclusion

Introduction to Australian Customs Clearance.
Our Expert Panel
Carl Jones – Head of Aviation Development, Brisbane Airport Corporation (BAC)
Matthew Andrew – General Manager Queensland Operations, Trade & Investment Queensland (TIQ)
Najib Lawand – Director, Export Connect
Masayuki Harakawa – Japan Airlines (JAL) Cargo
Shane Quinn – Marketing Director, Mulgowie Farming Company.
Webinar Moderators
Lisa Cavallaro – Industry Development Manager (Food), Industry Growth & Trade, Brisbane EDA
Doug Pye – BNE Enterprise.
Register