BNE Enterprise Industry Breakfast – Enhancing Brisbane Airport Catchment's Workforce Resourcing; Thursday 23 June
Thursday 23 June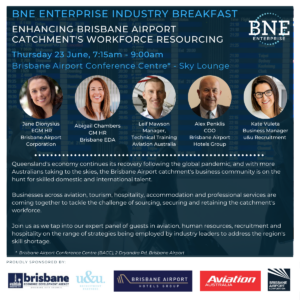 BNE ENTERPRISE INDUSTRY BREAKFAST 
THURSDAY 23 JUNE
ENHANCING BRISBANE AIRPORT CATCHMENT'S WORKFORCE RESOURCING
Join BNE Enterprise as we invite Airport Catchment leaders from across aviation, tourism, education, hospitality, accommodation and professional services to tackle the challenges facing catchment businesses in workforce attraction and retention.
Our guest panellists will offer their insights on the range of strategies being employed to source and secure skilled workers to the catchment and South East Queensland, as the economy emerges from the pandemic.
Guest speakers include:
Brisbane Airport's EGM Human Resources Jane Dionysius
Aviation Australia Manager Technical Training Leif Mawson
Brisbane Airport Hotels Group COO Alex Penklis
U&U Recruitment Business Manager Kate Vuleta
Brisbane EDA GM Human Resources Abigail Chambers.
Register