Brisbane Airport Workforce Attraction Forum MkII 18 November 2022
4 November 2022
Brisbane Airport Corporation and BNE Enterprise, in partnership with the Federal Department of Employment and Workplace Relations (DEWR) are hosting their second Brisbane Airport Workforce Attraction Forum on Friday 18 November at the Brisbane Airport Conference Centre from 9am.
BNE Enterprise Members and select Airport Precinct businesses have been invited to take part in an introductory forum session with employment and apprenticeship services providers from throughout South East Queensland.
The Forum is designed to highlight employers' critical workforce shortages within the Precinct and to identify and select a range of candidates presented by the region's employment service providers.
BNE Enterprise is working together with Brisbane Airport Corporation to help precinct employers fill the near 2,000 job vacancies required to meet the Precinct's demands in the near future.
"We are committed to engaging with our members and businesses across the precinct in creating meaningful pathways to attracting and retaining jobseekers," BNE Enterprise Chairman Rob Hunter said.
"In partnering with Brisbane Airport Corporation and the Department of Employment and Workplace Relations, we can access up to 150,000 jobseekers."
"Many of these jobseekers may not currently realise the potential career opportunities available to them here within the Airport precinct, so it's our job to promote the incredible range of available pathways for enthusiastic candidates," he said.
Precinct workforce shortages exist in aviation engineering maintenance and repair, security, transport services, food & beverage, retail, hospitality and hotel services, landscaping, baggage handling and cabin crew services, to name just a few.
Employers within the Brisbane Airport precinct are encouraged to contact BNE Enterprise to discuss attending the Workforce Attraction Forum on 18 November at Brisbane Airport Conference Centre.
Contact BNE Enterprise director Doug Pye on info@bneenterprise.com or 0403 326 995.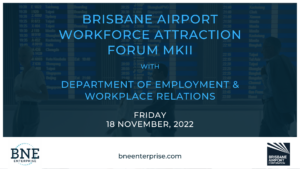 Register