Friday 18 September – Business Breakfast with Lord Mayor Adrian Schrinner & Brisbane Airport CEO Gert-Jan de Graaff
8 September 2020
The city of Brisbane forges ahead with its economic recovery in the face of headwinds brought on by the global COVID-19 pandemic.
Our business community continues to innovate, adapt and band together in finding new ways to support and encourage employees, promote growth and meet future infrastructure needs.
Join us as Brisbane Lord Mayor Cr Adrian Schrinner and Brisbane Airport Corporation CEO Gert-Jan de Graaff discuss their state-of-play in the aftermath of the pandemic and their plans over the next 12 months to re-energise Brisbane's aviation and business community.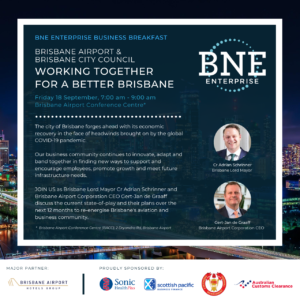 Register