Clayfield Electorate MP Tim Nicholls launches new online map to help get local business #BackOnTrack
11 May 2020
State Member for Clayfield Tim Nicholls MP has this week launched a #BackOnTrack online map to assist local businesses in the electorate to promote themselves during the COVID-19 pandemic.
Businesses can tag themselves on the online map, so customers in the local area can easily see which businesses are open and other important detail, such as a company's website and goods/services offering.
There's also a poster available for business owners to print and put on their shopfronts, to alert customers of the campaign.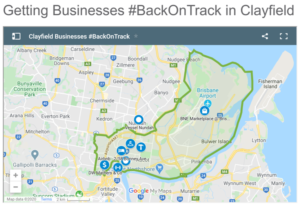 BNE Enterprise is encouraging all members and associates to join the #BackOnTrack campaign.
To register your business with the #BackOnTrack, visit:
Please don't hesitate to contact us at info@bneenterprise.com if you have any questions.
Disclaimer: The purpose of this communication is to provide some useful resources and general information only. BNE Enterprise does not provide financial or professional advice in relation to any of the above matters.